May 20th 2013
We are pleased to announce that "Old Fashioned Love" is now available on itunes, amazon, spotify and all good online retailers.
April 23rd 2013
Here's XFM's John Kennedy interviewing us at the Midnight Beach Single Launch back in March. He is literally the coolest man on radio.. check it out
April 21st 2013
We're a half way through the tour, we've covered a few hundred miles, many service stations and some less than sexy hangovers. To follow our progress over the coming week check our facebook.
April 15th 2013
Tour starts this week, click the poster for last minute tickets!
April 13th
We tired of waiting so we went ahead and smashed the new EP up on soundcloud…. seemed like the appropriate thing to do. Tour starts next week!!!!!
April 2013
The new EP will be 5 tracks and will be called "Old Fashioned Love"… and it looks a little something like this….
March 2013
Only the one gig in March…. but we made it a special one. We had a knees up at the Tooting Tram and Social to celebrate the release of "Midnight Beach". Our good friend and constant champion John Kennedy from XFM hosted the evening. He rocked up in a suit no less… I'm pretty sure he didnt even do that for the MPG awards so theres a result. We had two bone shatteringly good bands open proceedings; The Bombergs and Casper & the Howling, make sure you check them out else bad karma will hunt you down. Hopefully we'll be uploading a little video for those of you who couldnt make it for whatever feeble reason… pics below….
For more pictures, visit Matt Martin's page here MATT MARTIN PHOTOGRAPHY
The very lovely Arielle Free and Stephen Kelly host a podcast for "the 405" and we were their featured artist for the week. Theres an interview, a couple of tracks and some beautiful words from Steve and Ari. have a listen…
February 2013
As promised, we are happy to reveal that we have a new 5 track EP on its way to you and yours in May… oh and in case you were worried that you might be incapable of waiting that long, we've gone and put the next single on Soundcloud. Midnight Beach will be available to download as of 26th March from itunes and amazon.
January 2013
Christmas came and went and now suddenly we find ourselves at the end of January…. where does time go, eh? In fact we just realised we haven't posted in news for a little while, so here's a little update….
Back in January we were invited by the dapper gents at Euphorik clothing to play at their show for Men's London Fashion Week. We couldn't say no to a night out with the beautiful people, could we now. We threw our acoustic guitars (and Sam's trusty cajon) over our collective shoulder and trundled to West London where we smashed out a few tunes, some old and some new. Afterwards, the drinks flowed and hangover inducing merriment was had by all.
A couple of days after we had recovered from the Euphorik night, we headed out onto the streets of Shoreditch with the immensely talented Sam Bradley for a photo shoot for the forthcoming release. I'm not going to lie to you, it was f*cking freezing but we soldiered on like mummy's little troopers…. click on the picture below to see the fruits of our labours (well.. Sam Bradley did all the hard work).
December 2012
So as some of you will know we've been in the studio day and night struggling through blood sweat and tears to bring you new Daytona Lights songs. During a break from working out harmonies and bullying Sam, someone suggested jamming a new song (Sparks) acoustic… so we did and we recorded it. Then in the second moment of genius that day, someone said in the spirit of xmas lets give it away as a present, so we are… Laurence and I explain in the video below where you can get your copy. This is after we sing a brief message of longing to the other boys who had left the studio for the day to go to Winter Wonderland…. slackers…
November 2012
The past couple of months we've seen a lot of road. Manchester, Liverpool, Huddersfield, Sheffield, Cardiff, Swansea, Brighton and London… I'm not listing them all because, frankly… I'm lazy. However we do have to say a mahoosive thanks to all those lovely people along the way who came to the shows, bought us a well needed beer or two, the ones who lent us beds/sofas/hotels/umbrellas, the bouncer who stopped me being brutalised by the "Woolwich Gansta BT man", the M1, Matt's Dad for driving Matt the length of the country to make a last minute show, all the students on the Freshers shows for generally being f*cking mental, the sound engineers for not melting when they heard "it's 5 vocal mics please" and of course Bands in Transit for giving us their sexy ass van for the tour.
'Crowd at UEA… insane bunch of reprobates.. love em all'
'Welsh sunset from the Daytona van'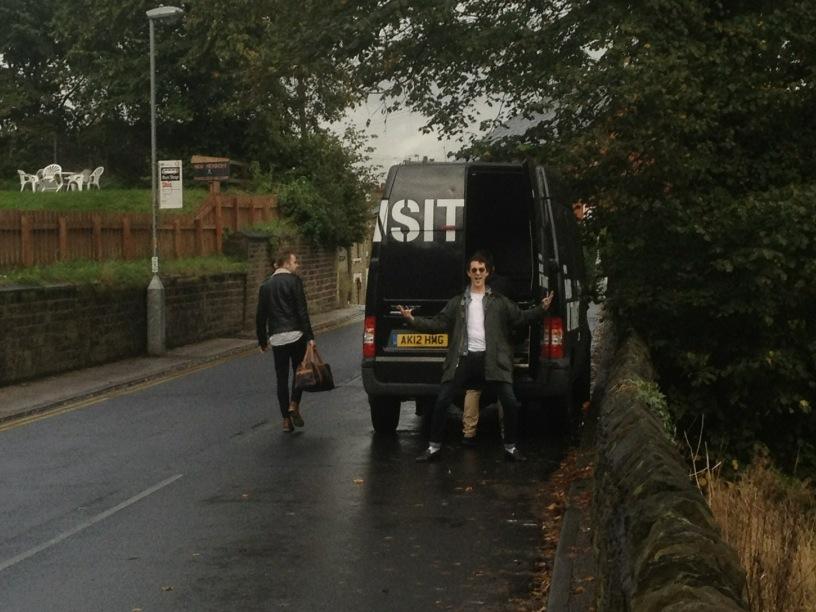 "…men with ven…"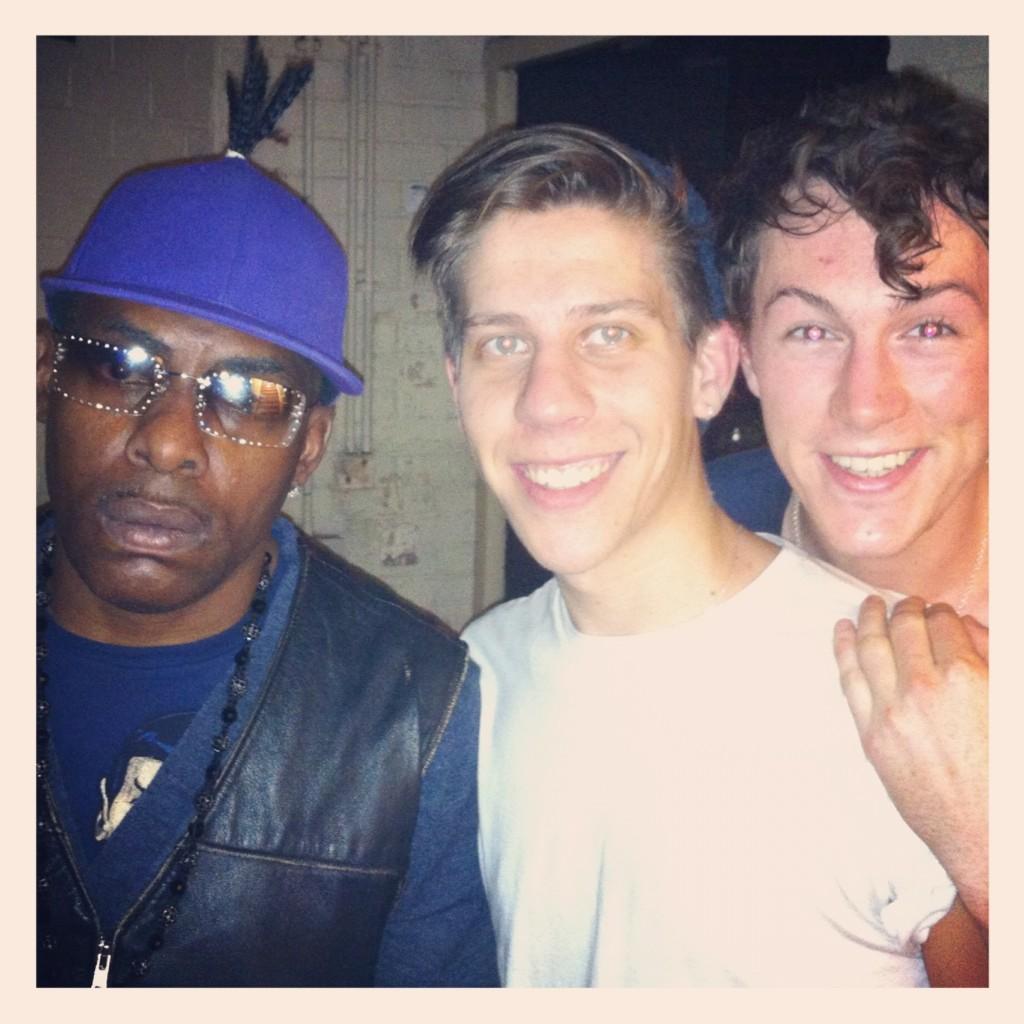 '…with Coolio… nuff said'
The tour was indescribably immense and we'll be announcing details of future shows very soon. For now we have only a couple of shows left, including a date with MADNESS (eek!) before we go into hiding to work on brand spanking new material.
ALSO….*excited face*  we won Best Album at the International Independent Chart Download Awards!!!  Here's us (minus Dan, who was on a country getaway) with our little trophy.
until then,  adieu (to yeu and yeu and yeu)….
L
DL
x
October 2012
So, as some of you will know we played Bestival this summer, and what a weekend it was. Sun, music, overpriced food and drink, various questionable decisions and a world of hazy heart warming memories. Most importantly though Rob Da Bank and Replay Jeans were kind enough to invite us to play a couple of sets over the weekend. Thankfully some clever sod went and filmed the whole thing…. (can you see where this is headed?) … and you can watch it here!!! >>>>
Follow these instructions as it can be a little tricky, however we like to see it as an adventure…
1. click on this link… http://www.beatclash.com/bestival/
2. click on "OTHER EVENTS" 
3. Click on "Thursday 6th Sept"
4. FINALLY click on "Daytona Lights"
5. Turn it up, kick back
much love
DL
x
'Replay Stage @ Bestival'
'monitor lunge'
'A sunkissed Dan with a van, backstage at Bestival'
'Posh Wash'
'Post show'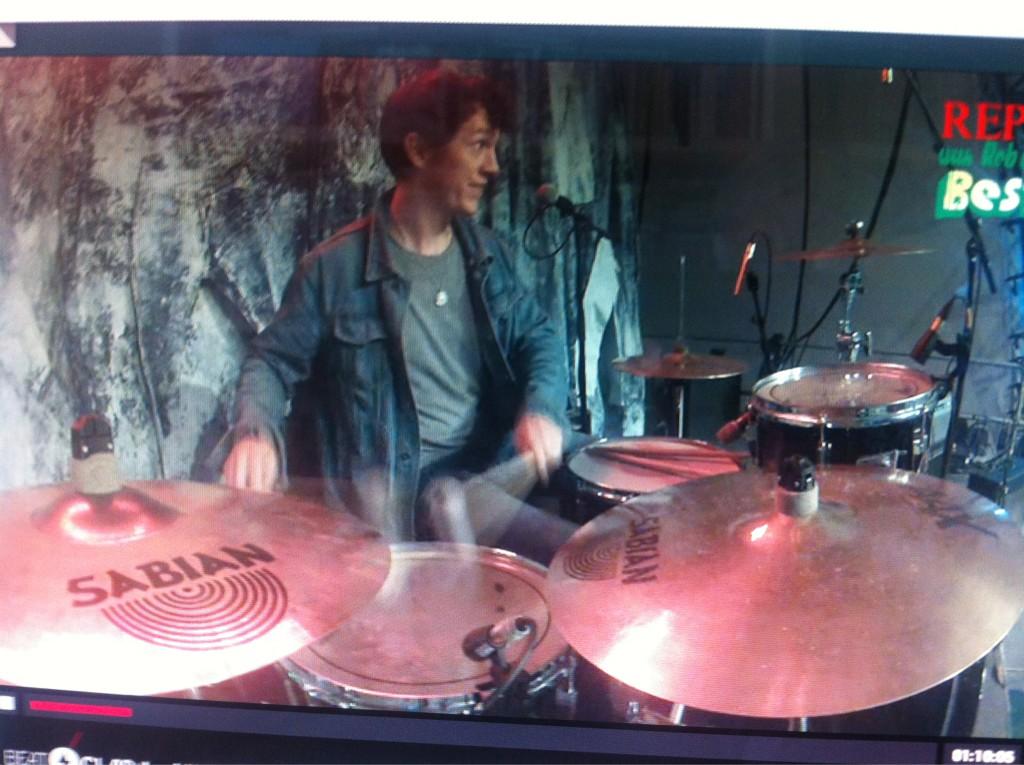 'Sam's beater face from the online broadcast'